ARTICLES FROM DEVOTEES
Smt.Indita Devi mataji & Bhrigu Samhita ,predictions her Destiny.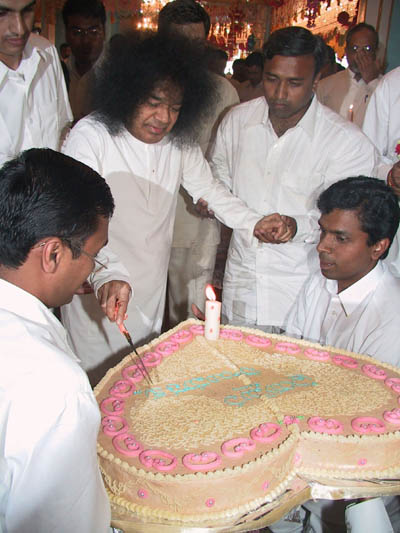 'Bhrigu Samhita' is a well-known authentic hook of predictions. which is said to have been writ­ten 7000 years ago. Smt. Indira Devi (Mataji) of the Sai Yoga Centre of Tecate (Mexico) was born in Russia, learnt yoga in India, U.S.A. acclaimed her as "the First Lady of Yoga," is the author of many books on yoga and also "Sai Baba and Sai Yoga." She had her life reading done from this famous book by Chayasastri, Shri Kantilal Pandya, in March 1972,while she was passing through Bombay.
It mentioned correctly all the details about her life. One of the lines read as: "During 1966-67 you came into contact with a Maha Purusha due to merits of past lives. You are still under His influence." The astrologer explained to her that 'Maha Purusha' meant God. Smt. Indira Devi has written in an article in "The News Chronicle" of Ludhiana, that the reading of the past happenings were accurate. She had first met Bhagavan in 1966 when she was 66 years of age, and had returned to Puttaparthi next year when she was 67. From this she concludes that "if the book of Bhrigu written in several milleniums ago was right in giving her age at the time when she had met Bhagavan then it also should be right in referring to Him as Maha Purusha."
The Bhrigu Samhita had also predicted that Indira Devi's husband, Dr. Sigfrid Knauer, M.D., a famous consulting physician, would come under the influence of the same Maha Purusha. She could not believe this because she knew that her husband was a staunch Christian and an Anthroposophist. Later Dr. Sigfrid Knauer travelled against medical advice to India to meet Bhagavan Baba and seek cure of an intractable illness. Baba welcomed him with His compassionate love and cured him. Speaking about this experience to a San Diego audience, the doctor narrated how Baba treated him by materialising thirty three pills (symbolising 313 vertebrae) and also by massaging his back with a sweet and fragrant oil that exuded from Baba's palm. He went on to say, "In gratitude I wanted to touch His feet, but, He did_ not let me do so." Indira Devi, who was present during this entire episode was utterly bewildered to see the transformation that had come about in her husband who at that moment was so desperately trying to touch 'The Lotus Feet.'
JAI SAI RAM